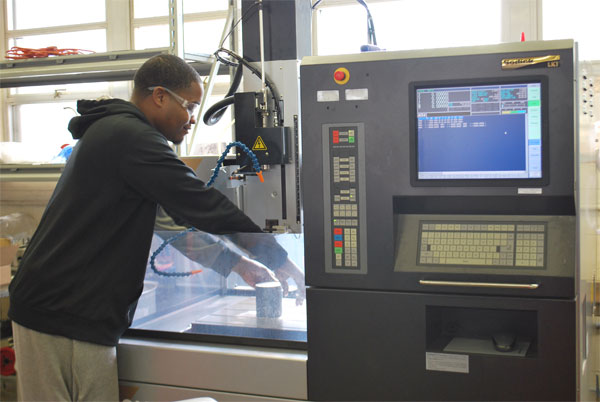 Work Environment
Machinists and tool and die makers work in machine shops and toolrooms and on factory floors, where work areas are well lit and ventilated.
Most machinists and tool and die makers work full time during regular business hours. However, overtime is common. Because many manufacturers run the machinery for long hours, evening and weekend work is also common.
What are Machinists?
Machinists use machine tools that are either conventionally controlled or computer numerically controlled, such as lathes, milling machines, and grinders, to produce precision metal parts. Although they may produce large quantities of one part, precision machinists often produce small batches or one-of-a-kind items. The parts that machinists make range from simple bolts of steel or brass to titanium bone screws for orthopedic implants. Hydraulic parts, anti-lock brakes and automobile pistons are other widely known products that machinists make.
Machinists may further be classified by specialty:
Production machinists produce large quantities of one part, especially parts requiring the use of complex operations and great precision. Many modern machine tools are computer numerically controlled (CNC). CNC machines control the cutting tool speed and do all necessary cuts to create a part. The machinist determines the cutting path, the speed of the cut, and the feed rate by programming instructions into the CNC machine. Many machinists must be able to use both manual and computer-controlled machinery in their job.
Maintenance machinists repair or make new parts for existing machinery. After an industrial machinery mechanic discovers the broken part of a machine, the machinist gets the broken part. To replace or remanufacture broken parts, maintenance machinists refer to blueprints and do the same machining operations that were needed to create the original part.
Although production machinists are concentrated in a few industries, maintenance machinists work in many manufacturing industries.
What are Tool and Die Makers?
Toolmakers craft precision tools and toolholders that are used to cut, shape, and form metal and other materials. They also produce jigs and fixtures—devices that hold metal while it is bored, stamped, or drilled—and gauges and other measuring devices.
Die makers construct metal forms, called dies, that are used to shape metal in stamping and forging operations. They also make metal molds for diecasting and for molding plastics, ceramics, and composite materials.
Many tool and die makers use computer-aided design (CAD) to develop products and parts. Specifications entered into computer programs can be used to electronically develop blueprints for the required tools and dies. Computer numeric control programmers use CAD and computer-aided manufacturing (CAM) programs to convert electronic drawings into CAM-based computer programs that contain instructions for a sequence of cutting tool operations. Once these programs are developed, CNC machines follow the set of instructions contained in the program to produce the part. Machinists normally operate CNC machines, but tool and die makers are often trained to both operate CNC machines and write CNC programs, and they may do either task.
Machinists and tool and die makers set up and operate a variety of computer-controlled or mechanically-controlled machine tools to produce precision metal parts, instruments, and tools.
Career Outlook
Despite improvements in technologies such as CNC machine tools, autoloaders, high-speed machining, and lights-out manufacturing, machinists will still be required to set up, monitor, and maintain these automated systems. In addition, employers are expected to continue needing machinists who have a wide range of skills and are capable of performing modern production techniques and almost any task in a machine shop. As manufacturers will continue to rely heavily on skilled machinists as they invest in new equipment, modify production techniques, and implement product design changes more rapidly.
Job opportunities for machinists and tool and die makers should be excellent as employers continue to value the wide-ranging skills of these workers. Also, many young people with the educational and personal qualifications needed to become machinists or tool and die makers prefer to attend college or may not wish to enter production occupations.
In fact, employers in certain parts of the country report difficulty attracting skilled workers and apprenticeship candidates with the abilities necessary to fill job openings.
Pay (source U.S. Bureau of Labor Statistics)
Wages of machinists and tool and die makers vary with their skill and with the industry and establishment in which they work. The median hourly wage of machinists was $18.52 in May 2010. The median wage is the wage at which half the workers in an occupation earned more than that amount and half earned less. The lowest 10 percent earned less than $11.59, and the top 10 percent earned more than $27.91.
The median hourly wage of tool and die makers was $22.56 in May 2010. The lowest 10 percent earned less than $15.34, and the top 10 percent earned more than $33.57.